Uncategorized
Jamoh Advocates Synergy, Integration as Panacea For Sustainable Maritime Security in Africa
...Lauds Success of Nigeria's Deep Blue Project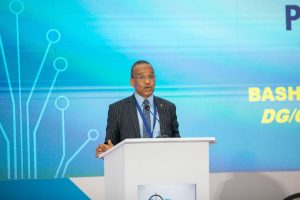 Dr. Bashir Jamoh, Director General of Nigerian Maritime Administration and Safety Agency (NIMASA) has called on stakeholders in maritime security across Africa to strengthen existing synergies and enhance their cooperation towards a sustainable blue economy.
Jamoh who made the call in Accra,  Ghana at the International Maritime Defence Exhibition and Conference (IMDEC), identified sustainable teamwork by various state actors as a strategy to stay ahead of criminal elements in the maritime domain.
While addressing a gathering of top military officers, maritime administrators and experts from over seventy countries, Jamoh described the Nigeria's Deep Blue Project with air , land and sea assets as a major contributor to security in the Gulf of Guinea.
The NIMASA DG lauded the activities of the Shade Gulf of Guinea and the Younde Architecture Regional Information System,which bring brings strategic state partners together for the common good of safer maritime space.
According to him, under the Shade Gulf of Guinea arrangement, Nigeria oversees air deconfliction ; Democratic Republic of Congo does handles information sharing and reporting while Cameroon handles cooperation at sea.
Jamoh said " the Deep Blue Project has contributed to a reduction in piracy to zero percent from 2021 to date addressing challenges of oil theft, illegal bunkering, smuggling and other maritime crimes, thus enhancing safety and security in Nigerian waters.
"By mitigating illegal activities, the initiative of the Deep Blue Project supports legitimate maritime trade and investment, boosting economic growth and stability as the revenue drive by agencies like NIMASA has improved significantly" he said
He praised the impact of the Suppression of Piracy and Other Maritime Offences (SPOMO) Act and other enabling laws as fulcrum for policy intervention to attain good maritime governance in Nigeria , improved security assets, enhanced infrastructure and promotion of international best practices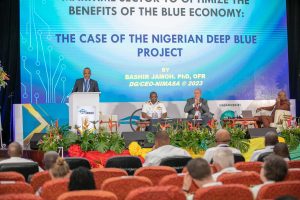 Dr. Jamoh recommended enforcement of maritime safety and security standards; effective marine surveillance; investment in maritime infrastructure; improvement in information sharing and increased cooperation among countries.
The NIMASA DG also called for increased deployment of technology aided devices like the use of satellite tracking for more efficient monitoring of ships and ports as a proactive and preventive way of securing them.
The 2023,third International Maritime Defence Exhibition and Conference (IMDEC) featured an array of insightful panel discussions and innovation sessions, showcasing the latest advancements in maritime defence and security.
The event which was inaugurated on August 29 by Nana Addo Dankwah Akufo-Addo, President of the Republic and Commander in Chief of Ghana Armed Forces at the new dedicated exhibition hall at Burma Camp was hosted by the Ghanaian Navy.
The purpose-built facility within the Ghana Armed Forces Headquarters in Accra, Ghana, has been designed to accommodate the growing scale of the event.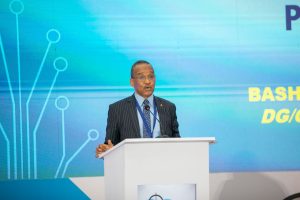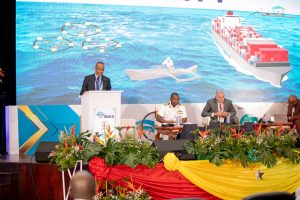 Rear Admiral Issah Adam Yakubu, Chief of Naval Staff, Ghana Navy at the event highlighted the significance of IMDEC in strategically uniting key stakeholders within Africa's maritime sphere and said: "IMDEC serves as a platform to reflect on our accomplishments and chart the course for a prosperous maritime future. The blue economy offers solutions to numerous economic challenges in Africa if properly harnessed. To realise its potential, we must ensure our maritime space is safe and secure for business and shipping as advancements in onboard systems and rapid digital transformation require African navies to implement measures to safeguard their systems and operations."
IMDEC's innovation sessions included cutting-edge technologies that bolster naval operations, security, and territorial monitoring. Over the two-day event experts from diverse sectors offered insights and case studies on the successful application of maritime innovations.
-Advertisement-