Uncategorized
Excise Duty: Customs Makes N20b From Lagos Manufacturers , Set to Surpass Target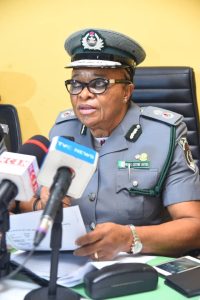 A total of N20,075,338,533.66 has been collected as excise duty by Nigeria Customs Service from manufacturers whose factories are domiciled in Lagos between January and August 2023
This figure is N7,635,787,760.55 higher than the  N12,439,470,773.31 collected within same period of 2022 showing a 38 percent increase
This was disclosed by Queen Ogbudu, the  outgoing Controller of Nigeria Customs Service, Lagos Industrial Command at a press conference before her exit to assume office as Zonal Coordinator and Acting Assistant Comptroller General in Charge of Zone B, with headquarters in Kaduna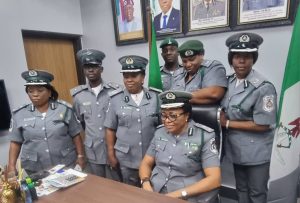 Ogbudu said the collected revenue and recorded increase were fallouts of enforcement and revenue collection strategies she put in place on assumption of duty in May 19, 2022 which resulted in collection of N21.8b and a marked increase in excisable factories from a total of 19 functional and non functional factories to 38 factories.
The Acting ACG expressed optimism that the command will surpass it's target as there are marked improvements in the collected revenue in 2023 when compared with last year's figure.
Ogbudu said "the percentage increase in revenue of 2023 as against 2022 is 38% which is of a great significance to the command's revenue. The Command is optimistic that this year's target of 30 billion with 2.5 billion monthly will be surpassed because so far in eight (8) months we have exceeded our target with almost 77 million naira.
"The steady and consistent rise in the revenue of the command was made possible by the hardworking and dedicated officers who work tirelessly to make sure that the correct duties are collected as and at when due. I commend all the officers and men for their efforts.  It is worthy of note that at the time of my resumption, the command had a total of (19) nineteen functional and non-functional factories, but as at today, the Command has a total of (38) thirty-eight functional factories producing both Alcoholic and Non-Alcoholi, Carbonated, Sweetened beverages and eleven (11) nonfunctional factories which the operations unit has kept under surveillance" she said.
She thanked her officers and stakeholders for the cooperation given her when she served in the command while urging them to do more
The Command during the period under review had several meetings with stakeholders and officers and men where they were guided on the appropriate procedures ranging from Entry of Premises (provisional and final approval), registration of products, application of e-payment platform for payment of duties and other procedures including renewal of licenses, bonds and prompt payment of duties.
She urged officers to be vigilant and diligent in ensuring appropriate records of raw materials, finished products, and calculation of daily production for collection of  revenue.
-Advertisement-