Arts
School of Eloquence's Impact on Lagos Secondary Schools – Report from CSR Programmes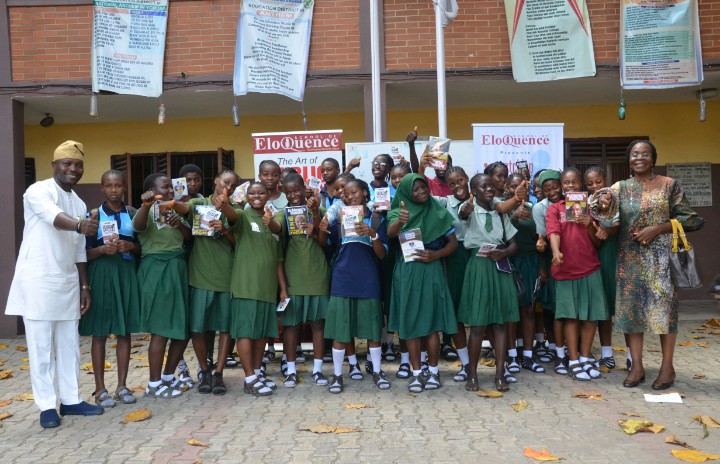 As part of efforts to improve the oratory skill among young people, Nigeria's foremost public speaking institute, School of Eloquence has in the last six years been giving back to the society through its Corporate Social Responsibility (CSR) initiative.
The school, which is located at Osbourne Foreshore Phase 2, Ikoyi, Lagos, via its "Catching Them Young" Programme and Eloquence Cup Competition, has been spreading the gospel and importance of public speaking.
-Advertisement-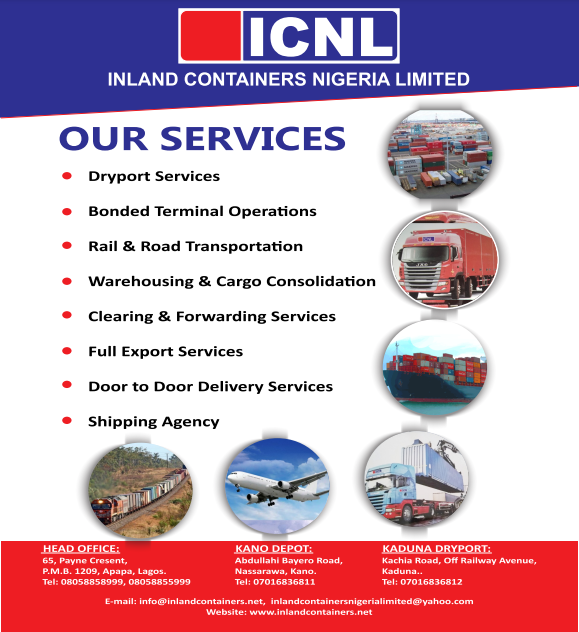 The School of Eloquence has taken it upon itself to groom the next generation of excellent orators, one government-owned secondary school at a time, by equipping them with the knowledge and skill of public speaking.
The initiative which started in 2017 has positively impacted the lives of hundreds of students in over 25 schools across Lagos, helping them hone their communication skills.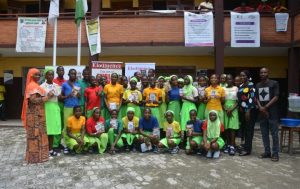 The Catching Them Young train which includes alumni of the School of Eloquence led by the Programme's coordinator for Lagos, Joshua Mogbo, made its inaugural outing in 2017 to Ojota Senior Secondary School, September 18; Queens Mary School, Ogudu, October 14; Queens College Yaba, October, 18; Adeolu Senior Secondary School and Reservation Senior High School, Ajegunle on October 31.
The following year saw the team visit Ilupeju Senior Grammar School on January 18 and Community Senior High School, Wasimi, Maryland on March 1, 2018 to propagate the art of public speaking.
-Advertisement-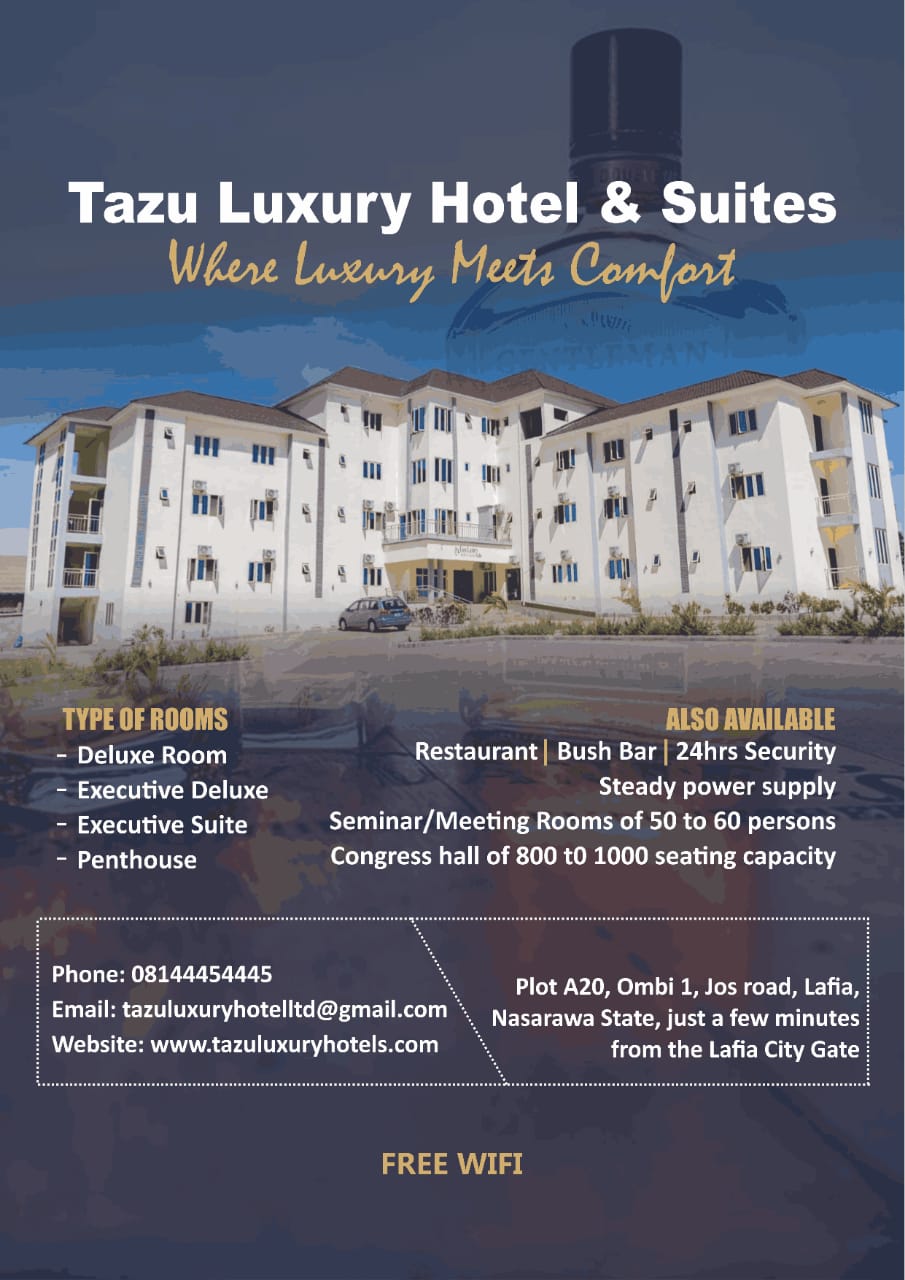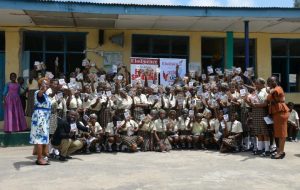 In 2019, it was the turn of Immaculate Senior Comprehensive High School; Community Senior High School, July 3; Ikeja Senior High School July 10; Army Cantonment Senior Secondary School Ikeja, Opebi Senior Grammar School, and Unity High School, Oshodi on the 26th of June.
A total of eight schools were recipients of the initiative in 2020. They include: Government Senior College, and Girls Senior High School, Iyana-Ipaja on February 13; Lagos Baptist Senior College, Agege, and Sango Senior Secondary School Dairy-Farm Agege on March 4.
Others are: Lagos Baptist Senior Secondary School Agege and State Senior High School Oyewole Agege, February 18; Abibat Mogaji Millenium Senior Secondary School, Dopemu Agege and Dairy Farm Senior Secondary School Dairy-farm Agege, on February 27.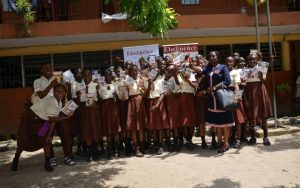 However, due to the restriction of movement and human contact following the outbreak of COVID-19, the programme did not hold in 2021 and 2022.
-Advertisement-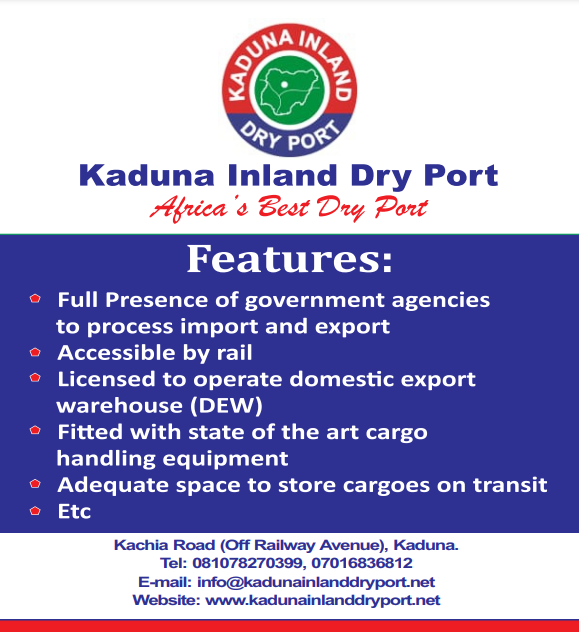 For this year, the Educational District 3, Ikoyi, approved the five following schools for the Catching Them Young Programme: Girls Secondary Senior School, Ikoyi, May 10; Falomo Senior High School and Ireti Senior Grammar School, Ikoyi, May 17; Kuramo Senior College, Victoria Island, May 24, as well as Victoria Island Senior Secondary School on May 31, 2023.
On the other hand, the Eloquence Cup which is the second phase of the Catching Them Young Programme, provides a platform for the students to showcase what they have learnt about public speaking during the practical sessions, where the students are empowered to speak effectively and handle nervousness through preparation and exposure to other useful techniques.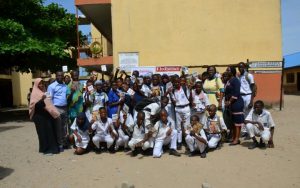 The Registrar, School of Eloquence, Mrs. Patience Essien disclosed that the Eloquence Cup was initiated by the school's founder and Dean, Ubong Essien.
She explained that the Dean, who is also West/Central Africa's only Certified Speaking Professional, believes that teaching the younger generation communication skills will help improve society.
According to her, "the Eloquence Cup is a public speaking challenge between students in government-owned secondary schools. The students are assigned a topic of general interest upon which they are to speak before an audience which includes students and teachers of competing schools, alums from the School of Eloquence, the School's Board members and other members of the society.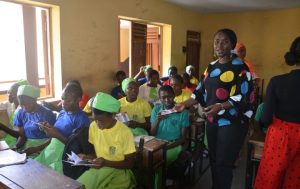 "The winning school takes the trophy we call The Eloquence Cup. We also have prizes for the participating individual students that excel in the competition, from laptops to tablets and cash. The maiden edition was won by Kings College in 2017.
"Our students and clients are business owners, corporate executives, government functionaries, directors and high-profile individuals who are very good at what they do but find it challenging to speak in public. So, they come to the School of Eloquence to learn the skill later in life.
"The Dean thought that it must be essential if such highly placed people were still coming back to learn this skill at their level. That gave birth to the "Catching Them Young" CSR initiative, where School of Eloquence alumni visit public schools to create awareness about eloquence at an early age, teach them the art of public speaking and let them know how important it is.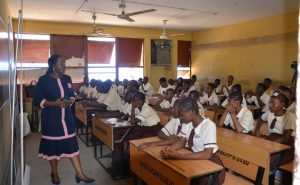 "Then at the end of the year, we call them to come and display what they have learned and how well they can perform in the art of public speaking at the Eloquence Cup competition".
Kings College won the first and second editions in 2017 and 2018, while Queens College also triumphed in 2019 and 2021 respectively. CMS Grammar School is the current champion having won the competition in 2022.
Speaking further on the significant takeaway from previous editions of the competition, the Registrar pointed out that the sight of students coming together in a very keen contest; winning prizes for their efforts and the expression of joy on their faces afterwards is always beautiful to behold.
"It has been a fascinating journey because when you see this younger generation in action and speaking on topics of national importance, you will appreciate how knowledgeable the students are and the bright future that awaits them. This means that we're making a positive impact in their lives and improving their presentation skills", she added.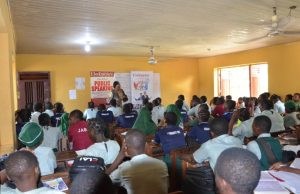 Schools and participants who have benefited from the Catching Them Young Programme have described it as an eye opening experience which leaves behind long lasting positive effects.
The teachers have also recognised the importance of public speaking skills for students and appreciated the programme, noting that such regular engagement and interactive discussions will help the students' educational development.
Testimonials from some participants down the years.
"From what I have learnt today from the group from School of Eloquence, I believe the tools which were talked about will help in making the way I speak in public a lot better than I have been doing before. I also believe it will improve the way I communicate with people". – Chiyere Amadu, Queens College, Yaba (2017).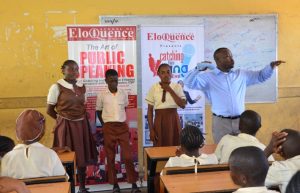 "I have learnt today from the School of Eloquence how to speak perfectly and always be prepared before engaging engaging your audience, as it will go a long way to determine the outcome. I also learnt about eye contact – that your eyes must always be on the audience, monitoring everything they are doing.
"So, I believe if given the opportunity to speak next time, I will do wonderfully well because I have really learnt a lot from this seminar". – Precious Ejike
Reservation Senior School, Ajegunle (2017).
"The session and experience was so nice; I learnt so many things. I learnt the definition of public speaking, the importance and ways we can speak in public. I also learnt about the use of eye contact and how to get the audience's attention". – Favour Awanye
Community Senior High School, Maryland (2018).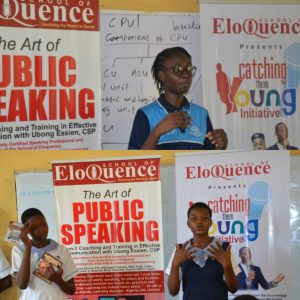 "I believe that no matter where I am, the confidence which has been imparted in me in this programme is going to play out. I am going to be very wherever I am speaking". – Mary Ugoh
Immaculate Heart Comprehensive High School (2019).
"The School of Eloquence is an asset to the schools they have been to. The programme is a way of motivating students and creating awareness about public speaking. It makes them have the ability and potential to speak in public confidently". – Ojo Victoria
Principal, Unity Senior High School, Oshodi (2019).
"School of Eloquence is a blessing. It is blessing to every student that has the opportunity to go through the School of Eloquence; get these materials and correct approach to public speaking. When I watched the speaker that came to talk to my students, I was moved to tears". – Modinat Mohammed
Vice Principal, Unity Senior High School.
Similarly, at the just concluded 2023 edition which took place in May, Sijuade Victor from Girls' Secondary Senior Grammar School, Ikoyi, noted that she has made tremendous progress in conquering stage fright, improving audience engagement, and delivering structured speeches.
On her part, Labake George from Falomo Senior High School reveled in her newfound confidence and called for public speaking to be included in the school's curriculum.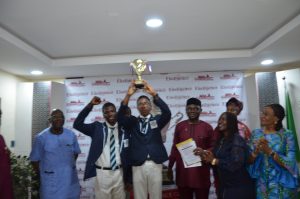 Student from Victoria Island Senior Secondary School were also not left out in the exciting experience, participating in an impromptu speech test.
The likes of Jubril Aishat Enemona spoke about "Substance Abuse"; Felix .D. Marvelous's speech was on the "Importance of Education to Trade"; Mathew Moses Kunle on "What Makes a Good Child"; Emmanuel Okeleke talked about "Exercise", while Kareem Musiliu's attempt was on the topic: "The Human Body".
Also speaking, Mrs. Oluwabiyo, a teacher at Falomo Senior High School stressed the need for public speaking to be included as a subject in the school curriculum, arguing that it would help students overcome stage fright during debates and presentations.
The programme has also been held in Rivers State at Okrika National Secondary School, and Comprehensive Secondary School, Ebika-Okrika in the past, led by the state coordinator, Anthony Daniyan.
With the visible and positive impact made over the last couple of years through the programme, the School of Eloquence has pledged to continue touching the lives of secondary school students across Nigeria by "Catching Them Young" and exposing them early to the importance of eloquence to one's life and career progression.