Uncategorized
Niger: Soldiers Overthrow President Bazoun, Close Borders, Warn Against Foreign Interference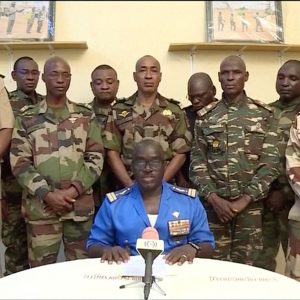 Niger President Mohamed Bazoum has been overthrown from power, according to a group of soldiers who appeared on the West African nation's national television late on Wednesday, hours after the president was held in the presidential palace.
Reading from a statement, Colonel Amadou Abdramane, seated and flanked by nine other officers, said defence and security forces had decided: "Put an end to the regime that you know due to the deteriorating security situation and bad governance."
Abdramane said Niger's borders are closed, a nationwide curfew declared, and all institutions of the republic are suspended.
The soldiers warned against any foreign intervention, adding that they will respect Bazoum's wellbeing.
The military takeover, which marks the seventh coup in the West and Central Africa region since 2020, could further complicate Western efforts to help countries in the Sahel region fight a jihadist insurgency that has spread from Mali over the past decade.
The soldiers took over the state television and announced a successful operation in the West African country on Wednesday night. The development came hours after Mr Bazoum was held inside the presidential palace in the capital Niamey.
Colonel Amadou Abdramane, who appeared to be among the leaders of the coup, took the centre position during the announcement, with nine other officers in military fatigues standing beside him.
Mr Bazoum was eventually ousted despite widespread condemnation that greeted his detention. President Bola Tinubu of Nigeria had quickly rejected earlier attempts by the military to seize power and sent a delegation to the country, which is Nigeria's neighbour to the north.
Tinubu had warned earlier this month that West African nations would no longer tolerate violent seizures of power in the sub-region.
 United States Secretary of State Antony Blinken conveyed Washington's "unwavering support" in a call to Mr Bazoum earlier on Wednesday.
The military junta quickly announced the immediate closure of the country's borders and a nationwide curfew that was imposed indefinitely.
Mr Bazoum assumed office on April 2, 2021. He survived an attempted coup on March 31, 2021, just two days before his inauguration. Today's event marked the first successful coup in Niger since 2010.
Nigeria has robust diplomatic and trade relationship with Niger which resulted in the planned construction of rail network to link both countries from Jibya in Katsina State to Maradi in Niger
-Advertisement-