Politics
Fubara Didn't Compromise Interest of Rivers People, Says Dakuku Peterside
... "Lets Allow Him to Work"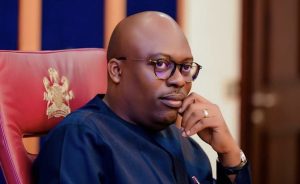 Dr Dakuku Peterside, a former federal lawmaker and  the 2015 All Progressives Congress(APC) governorship candidate in Rivers State has called on leaders in the state to intervene in the lingering crises between between Governor Siminalayi Fubara and Chief Nyesom Wike, Minister of Federal Capital Territory
Dakuku who said this in a press release added that  the governor has not compromised the state's interest or plunge the state in insecurity
While condemning the crises that engulfed the state in the face of impeachment threats by a section of the state House of Assembly against Fubara, Peterside said it's too early in the life of a government to uncover impeachable misdeeds
He urged political leaders not to allow their personal interests to override the overall interest of the people
See full text of his release below
 I have watched with utter disbelief and disgust the most recent developments in Rivers State.
Our once peaceful Rivers State has been turned into a theatre of the absurd by desperate political actors who do not wish the State well.
I condemn, in all ramifications, the raw violence that followed what should ordinarily be average political engagements
I also completely condemn the unwarranted disruption of normal governmental activities by politically motivated interest. All people of goodwill who love our dear State and democracy must condemn this in no mean measure.
I have read in the media, impeachment issues and the like. In good conscience, impeachment issues cannot arise in less than 5 months of incumbency. It sends the wrong signal that our State is a land of theatrics.
Nothing in the political landscape has shown that the Executive Governor has compromised the State's interest or put our State in a severe security quagmire.
I have always said that no pursuit of personal interest or ambition can override the interest of Rivers State and its people. We, political leaders, must always watch our actions and tame our excesses.
I appeal to all political actors to allow time and space for the Governor to do his job. Only one Governor can function at a time. I also appeal to members of RSHA to focus on the business of law-making and get less distracted by the pursuit of personal ego or narrow pecuniary interest.
Finally, I appeal to all leaders in Rivers State to intervene in measured terms with the overall interest of our State in mind. Posterity will judge all of us. Let us allow reason to prevail, please.
-Advertisement-