Uncategorized
FG's New Focus on Blue Economy Strengthens NSML 'Nigerianisation' Agenda, Says Ahmed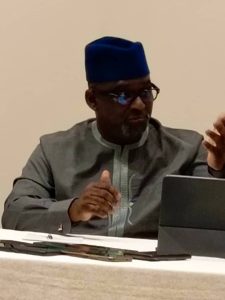 Managing Director of NLNG Shipping and Marine Services Limited, Abdukkadir Ahmed has lauded the federal government creation of a marine and blue economy as a popular policy that supports the company's agenda for inclusiveness of Nigerians in it's operations.
Speaking at a media parley in Lagos, shortly after his participation at the NSML/Utomapp Maritime Roundtable/Workshop, Ahmed said a blue economy ministry will increase focus on engaging more Nigerians in seafaring with deliberate action to preserve the marine environment.
According to him, his company's policy of being the country's highest employer of seafarers and creating a pool of professionals targets indigenous capacity development for nations growth which fits into government policy of creating a ministry of marine and blue economy
Speaking earlier at the NSML /Utomapp event , Ahmed said "The theme – Emerging Technology and Regulations in the Global Maritime Industry of the Future, and the Impacts on the Nigerian Maritime Sector  –  was carefully curated to review two topical issues that stakeholders in the global maritime industry are devoting serious attention and resources to – Technological Advancement and Regulations.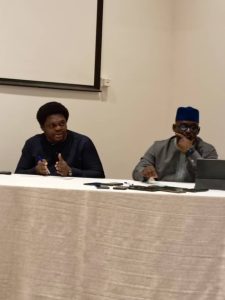 "These two issues are fully anchored on the treble objectives of ensuring a SAFE, RELIABLE and SUSTAINABLE industry. We believe that it is vitally important we start analysing thesee issues within the context of applicability to the Nigerian maritime industry, as they are bound to change the operations and dynamics of the sector
" NLNG Shipping and Marine Services Limited (NSML), is at the vanguard and forefront of promoting the ideals of these 2 issues as they affect our operations as a shipping and marine services company. To be able to operate safely and efficiently in a deeply regulated and technologically advanced maritime sector, it is imperative that we "future proof" our people to ensure they possess the proper skills, capabilities, and capacity  through  appropriate training and competency development programs.
Compliance with standards and drive for technological advancement are underpinned by the competence, capability, and skillset of our people, which are essential to achieving safety, efficiency and ultimately competitiveness. We have, in the past, also embarked on technical knowledge transfer projects  (internationally and domestically) to ensure the domiciliation of these skills and competencies in-country in Nigeria.
" Additionally, we have had to also implement practices and initiatives in our operations to ensure compliance with the raft of maritime regulations around green house gas (GHG) emissions and decarbonization.
Ahmed revealed that the NLNG export terminal in Bonny Island, which is under the management of NSML, has been certified as an Ecoport PERS terminal. The Ecoport PERS certification is the highest port sector-specific environmental management standard, achieved mainly by leading global ports/terminals, and it attests to the fact that the facilities and the operations of the NLNG terminal comply with the requirements of leading environmental management practices; and confirms the proactive nature of the NSML Terminal Management team in the application of global best standards in port/terminal environmental management, as well as imbibing a culture of continuous
-Advertisement-