Uncategorized
Nigeria Customs Plans Upgrading Compliant Traders to AEO Status
Nigeria Customs Plans Upgrading Compliant Traders to Authorised Economic Operator Status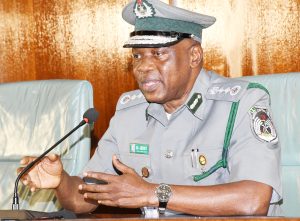 A landmark trade reform is set to benefit compliant traders as Nigeria Customs Service, on Wednesday, 2nd August 2023,  unveiled a roadmap to upgrade compliant traders to the status of Authorised Economic Operators (AEO)
This was disclosed in a press release issues by Abdullahi Maiwada, Customs Public Relations Officer in Abuja.
Maiwada, a Chief Superintendent of Customs said in the release that the drive aims towards simplifying trade in Nigeria through fast-tracking of compliant traders in line with the World Customs Organization protocol.
The customs spokesman said the soon to be implemented project is supported by the Nigeria Customs Service Act 2023 signed by former President Muhammadu Buhari.
Gains associated with AEO status , according to the release include faster release of AEOs cargo, improvement in security, increase in revenue, time saving for business and better recognition for beneficiaries of the upgrade.
According to the release "The project, which is called 'Authorised Economic Operators' (AEO), has the protection of the new Nigeria Customs Service Act 2023 and will be designed to systematically identify tolerable risks affecting the importation of legitimate goods into Nigeria.
"During a presentation on the modalities of implementation at Customs Headquarters Abuja, the Ag. Comptroller-General of Customs, Adewale Adeniyi MFR, re-echoed his commitment to tackling challenges bedevilling trade facilitation in Nigeria.
"The CG, however, said that compliant traders and businesses of significant benefits should embrace will benefit from the innovation, assuring that it will be a game-changer in the realm of trade facilitation.
"It is also believed that AEO Project will contribute to ease of doing business across various sectors and attract investors into the Country.
"The process, which is expected to improve security and efficiency in fast-tracking goods, will reduce turnaround time for importers and double up the chances of generating revenue, which according to CGC, will strengthen the mutual recognition between the Service and stakeholders"
The AEO which is a World Customs Organisation (WCO) backed initiative will create a mutual recognition platform between customs administrations and trusted members of the trading community where risks are identified and shared.
Whereas the NCS had over time placed some traders on fast track by allowing them priority privileges of exiting their cargoes more timely based on proven integrity, it is expected that some of such entities with consistency in complying with rules will migrate to AEO in Nigeria
-Advertisement-