Interviews
INTERVIEW: How I Reviewed Customs Operational Strategies for Optimal Results – Adeniyi, Ag. CGC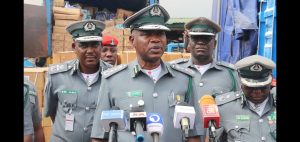 Bashir Adewale Adeniyi, Acting Comptroller General of Nigeria Customs Service (NCS) was in Lagos to show seizures of illicit drugs and other prohibited items made by Federal Operations Unit, Zone A from smugglers recently. 
Speaking to reporters shortly after the briefing, Adeniyi gave an update on ongoing talks with customs administration of Benin Republic; why he is not pursuing the $3.2b customs modernisation project due to pending litigation and increasing customs community relations with residents of border areas. 
Ismail Aniemu was there
Q: What are your space management and relocation plans concerning this almost filled up mechanical workshop, also serving to keep seizures here? 
It is a legitimate question.I think we have overgrown this place.The size of this place no longer matches the level of our seizure and that is why we are moving.We already have a plan to relocate the entire operations here.We are going to a new location somewhere outside Lagos.
We have acquired the place.Any moment from now, we will do the ground breaking so that the project will start. Not only Federal Operations will use the place.Our training college will be there.We will have accomodation and a number of Customs facilities which we will move to that side.
You can see that there is no more space that we can use here and when we leave, we will make a better use of this particular space in such a way that we will no longer create a kind of nuisance which these lorries and trucks create in the environment.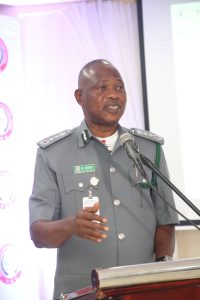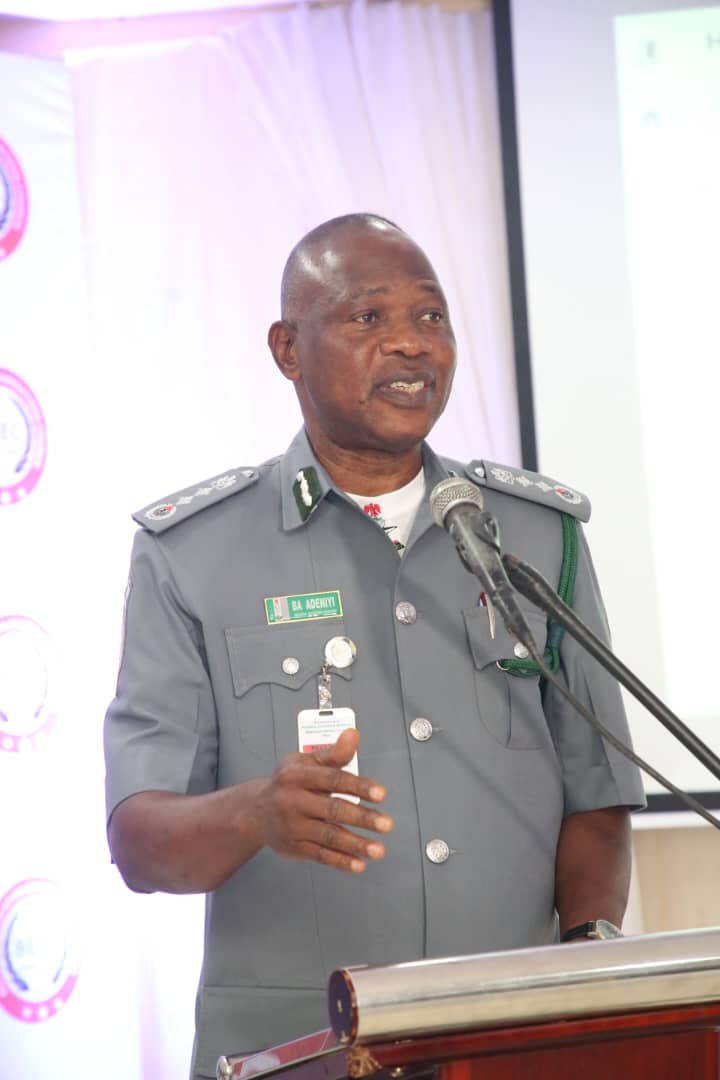 Q: How soon should we be expecting this?
We have started it.I can say the project has started and we are making every efforts to ensure that the current increase of exchange rate will not create a problem for us.
The contract has been awarded, the contractors have moved to site, and they have taken the first move to establish their presence and I want to believe that in the next few days, we are going to officially hand over the site to the contractors and I will be back here to do the ground breaking ceremony.
We are anticipating that within 20 months or thereabout, we will be able to move the entire operations out of here to the new location.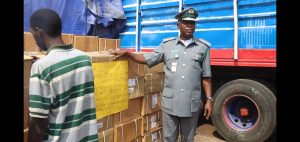 Q: On the seizures being made, what message do you have for the officers of ?
I want them to continue to work hard.I want them to know that the management is taking judicious notice of what they are doing but particularly, we are doing this press briefing at a time when  the leader of federal operations is on a special day and despite that, we still put all of that behind.He and his officers are making the sacrifice and such sacrifice should not go unnoticed.
Q: Bring us to speed with your collaborative talks with Benin Republic customs. Has anything been achieved? 
It's too early for us make a judgement call on this. It takes a long process.The process of diplomatic parley with our colleagues, getting their customs administration to agree on what we are going to do jointly along our borders and other areas.It is a process that might take some time.
In two weeks, the Customs Administration of Benin will be coming to Abuja for us to continue what we started and get a wide range of agreements on what our next strategy will be.
The same thing for smugglers, they take their time .Sometimes they transload , sometimes they put wares in smaller pieces and they look for the best route they will take to evade customs operatives.
We want to always be ahead of them by being proactive rather than reactive to prevent economic and security loses before they happen
On some of these seizures we made, I understand that this particular one, we were on their trail for quite some time before we eventually intercepted them at Ijebu Ode and arrested them.
It might be very difficult to say it was particularly based on the discussions that we are having but we have very credible intelligence regarding the movement of this particular seizure, we followed the intelligence and we got the result.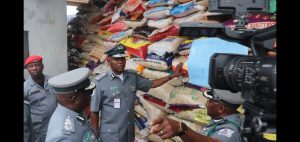 Q:Give us an overview of what has been done under your watch and the place of technology in all of these
I think this is a bunch of the working dealings that I have embarked upon for the last one month and I have visited all these places, I have seen them up close at work.
I have reviewed their strategies with them and I have had very intense engagements with all of them and I am seeing the results of these efforts .
The seizures I just talked about cut across the entire south-west  , so what it means is that the whatever efforts and whatever strategies we have put in place in the last two weeks are working as we are announcing this here, we are also having announcement of results even in the ports and in the next few days, I am going to invite you to see what we have at the ports.
We just want to make sure that we put all of them together and hold one major Press Conference.You heard about the arms and amunition in Idiroko shortly after we left last week.
By the time we fully integrate technology into this, I can assure you that the result will even be more impressive than what we are having now.
Q: You have interacted with traditional rulers and community leaders in border areas. What is the thrust of your meetings with them? 
My message to them is that smuggling is bad for our economy, it is also bad for the future generation of Nigeria and customs alone cannot successfully fight smuggling.
I sought their partnership and unconditionally,all of them gave very strong assurance that they are going to cooperate with us.
I was in Saki yesterday and the monarch was very generous in telling us that they will support us.They even told us that they are going to provide land for us to put our facilities if we want to build facilities to support anti-smuggling.It is the same every where we have been to in the last two weeks.
We are going to be working very closely with them and this is also why we said that we also need to take a lot of steps to further our corporate social responsibility plans to bring those communities where we operate under our fold and see what we can do to improve their lots in those border areas.
Q: Talking about technology .Is it the continuation of the custom modernisation project?
I am not talking about that because that on its own is a stand alone project and you know that currently we are at the stage  where the matter is in court and that is why I am not really talking much about it.
But then, beyond the modernization project there are a number of things that we can do on our own in getting very firm assurance from the World Customs Organization and other partners to assist us and what we are developing is  with the assistance of the WCO and we are also building the capacity of our officers locally, domestically.
We will expose them to those kind of training programmes and conferences so that they can learn expertise on how we can integrate those elements of technology in the profession.
Q:You have been to Oyo and other places, including where you are presently .What do you think is the major problem being confronted by your men? 
My experience in those places have been rewarding.I had the opportunity to learn and interact very closely with the officers.I  had the opportunity to understand their challenges.Driving from Ibadan to Saki alone made us understand what our officers have to go through daily.
We saw the communities interacting with them and they told us their pains .They told us about their concerns about those borders that are part of their day to day living. They told us that their peculiar situations which can  sometimes increase the rate of crime around all those places if not properly managed
It has given us an experience that is robust and it has given us… and when we get to Abuja, these are things that we will constitute input in fine tuning our policies and strategies to keep our borders safe.
-Advertisement-