Law and Crime
Customs CG Reiterates Onslaught Against Smugglers As Operatives Intercept Codein Syrup in Lagos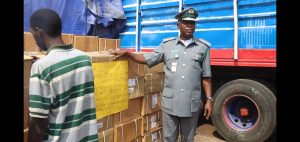 Acting Comptroller General of Customs, Adewale Adeniyi today in Lagos reiterated the service readiness to reinvigorate it's fight against smuggling and bring smugglers to book saying any investment in smuggling is a loss to the perpetrators.
Adeniyi said this while showing newsmen 299 cartons of codein syrup and other seizures made by the Federal Operations Unit of the service.
The codeine syrup, which is reportedly being abused by mostly young persons in society, is associated with addiction and, in the long-term, results in anxiety, depression, memory loss, and damage to the liver, kidneys and brain. It is pertinent to note that the damaging effects of drugs have led to preventable deaths for consumers taking them outside doctors' prescriptions.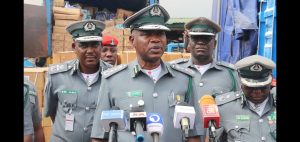 The customs boss said his men ,acting on credible intelligence, flagged down a DAF truck close to Ijebu-Ode Junction where upon examination, It was discovered to be carrying the controlled drug
While restating the NCS readiness to collaborate with sister agencies like National Agency for Food Drug Administration and Control(NAFDAC) and National Drug Law Enforcement Agency (NDLEA), Adeniyi explained the dangers of the medication when abused.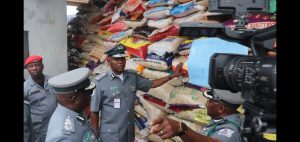 The CGC said "NCS is yet again drawing national attention to the danger posed by unrestricted access to the use dangerous drugs. Codeine syrup is designated as a controlled item due to its rampant abuse by our delinquent youth.
"The misuse and illicit distribution of codeine-containing medications have given rise to grave security and public health concerns, contributing to a surge in addiction, adverse health effects, and societal challenges. In response, regulatory measures have been implemented to curb its availability and unrestricted access. This underscores the importance of addressing this issue as part of broader efforts to safeguard public health and well-being.
"On our part we will continue to partner with the NDLEA and other relevant government agencies to curb the spread of the menace and protect the future generations of Nigerians" he said
"Smugglers of rice and premium motor spirit continue to test our will to put them out of business. Smuggling of rice compromise our revenue and sabotage  our food security.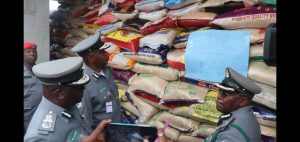 "Despite the biting effects of fuel subsidy removal on our economy, smugglers still attempt to smuggle PMS across the border. They met their waterloo in different operations conducted by officers of NCS. The following seizures of both items were recorded. A total of 4, 252 bags of foreign parboiled rice (50 kg each) at Dangote/Imashayi Ogun State, Saki Axis Oyo State, Owode/Ado Odo in Ogun state, Idiroko/Ohumbe Ogun State, Okoko Mile 2 Axis in Lagos State and Ado-Ekiti in Ekiti State. Similarly, 5,600 litres of premium motor spirit were intercepted and seized when smugglers attempted to takeout these strategic resource through Oja-odan axis in Ogun State"
"Other items seized in the last 2 weeks include 291 Bales of Second-hand Clothing ;57 Sacks and 4 Jumbo Sacks of Used Shoes ;486 cartons of foreign frozen poultry products;190 Pieces of Rugs;5 Units of Vehicles;170 pieces of used tyres
"These seizures are a fallout of our uncompromising position to strictly enforce the law and protect the lives of our people.
The 340 pieces of used tyres seized within the first two weeks of August 2023 by this unit is not only limited to the implementation of import prohibition lists but also a giant stride to mitigate auto crashes caused by smuggled used tyres.
"These tyres are squeezed, compressed and tucked into themselves for ease of concealment, thereby causing them to crack. They are oftentimes expired, their rigidity and strength compromised. Drivers could experience a blowout or sudden rupture as the steel wire meant to keep the tyres in shape have been disorganised in the course of smuggling"
-Advertisement-