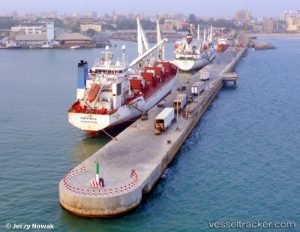 Some experts in the Nigerian maritime sector have advised the Federal Government to copy the Webb Port model of port community system being used in neighbouring Benin Republic.
Rising from the 2023 JournalNG Port Industry Town Hall meeting in Lagos, they agreed that the Webb Port model has proven to enhance national security, improve revenue collection and promote trade at the seaport, airport and land borders.
Giving an insight into the workings of the Webb Ports in Benin, Lanre Balogun, A manager in charge of installation at Webb Fontaine Nigeria Limited said the Port Community System has achieved seamless interactions between systems used by the port authority, customs and terminal operators from data exchange and logistics through billing and payment.
Balogun said all port processes under the Webb Ports regime enjoy speedy processing from electronic manifest declaration through electronic payment of all duties and fees; space booking for delivery and loading preparation; e- release for cargo exit authorisation and cargo movements management and follow up
Balogun said his company has trained 8,137 persons in Benin from 2018 to 2022 and has 6,624 users of the system that has helped Benin Republic Customs achieve 97 percent increase in customs revenue collection between 2016 and 2022.
He added that the PCS is active at Cotonou Port, Cotonou Airport and six land borders of Hilla Condji, Krake Plage, Malanville, Parakou, Iloua and Tchicandou.
He said the contract entered with Benin Ministry of Finance has contributed immensely to the port efficiency in the country easing trade. He listed trucking companies, banks, stevedores, customs brokers, shipping agents,inspection authorities and others are maximizing  the benefits of the Webb Ports system
The Customs Area Controller of Kirikiri Lighter Terminal, Comptroller Timinadi Bomodi warned that the nation's blue economy won't attract FDIs without adequate data to guide investors.
Bomodi said that automated processes and technology could be utilized in addressing the dire need for relevant data on various aspects of the sector which makes it easier for investors to understand the terrain.
He identified fishing trawler operations in the country as a sub-sector that requires optimum regulation and adequate data to guide the regulators, operators, government policies and  spur Foreign Direct Investments
While stating that the Customs online portal, Nigeria Integrated Customs Information System (NICIS) II, allows for integration of other agencies, he maintained that blue economy should be explored as an ecosystem that leverages technology.
"Also speaking at the meeting, Chief Abdullai Tony Dania, a  Maritime Lawyer, called for due diligence and enactment of laws that will strengthen integration among government agencies.
According to Dania, there is a need for mandatory inter agencies and inter-Ministerial collaboration, supported by statute to give impetus to the required technologically backed integration.
He stated the Nigerian Customs and Excise in under the ministry of Finance, but her operations are  more under the Marine  & the blue economy. He talked about the need to regulate the existing maritime agencies "
Meanwhile, the Founder of National Association of Government Approved Freight Forwarders (NAGAFF) and Chairman of the occasion, Dr. Boniface Aniebonam observed that automated processes of port agencies are fragmented.
Aniebonam, who was represented by the Registrar, NAGAFF Academy, Mr. Francis Omotosho observed that even the popular Customs Vehicle Identification Number (VIN) Valuation system and NPA's electronic truck call-up system are fraught with the challenge of human interference.
The veteran freight forwarder suggested that technology could be utilized to alert Customs of overtime cargoes after 28 days at ports, thereby positioning the Service to expedite the evacuation of such cargoes.
On his part, the Chairman of the Association of Maritime Truck Owners (AMATO), Chief Remi Ogungbemi advised that already established technological processes should be improved upon.
He also lamented that truck owners are equally being vilified when their trucks are seized along with consignments intercepted by Customs and other security agencies.
Earlier, the Publisher of JournalNG and convener of the conference, Mr. Ismail Aniemu observed that technology has become part of daily life and automation has also become the norm.
The magazine publisher said Nigeria Customs Service is the best suitable to be the lead agency for a national single window project and most qualified to handle it with it's more robust NICIS II platform
While commending the Webb Port system as most suitable tested and trusted platform observed to be sustainable in Benin in the last six years, Aniemu said the Nigeria Customs strong presence at the seaports, airports and border stations further attests to it's suitability to undertake the task
-Advertisement-