Uncategorized
Ahead of Seven Days Ultimatum,ECOWAS Delegation Meets Niger Military Government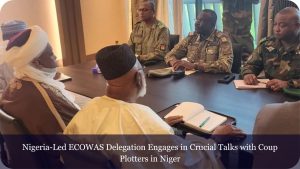 Ahead of 7 Days Ultimatum, ECOWAS Delegation Meets Niger Military Government
A delegation of Economic Community of West African States(ECOWAS) led by former Nigerian military Head of State, General Abdulsalami Abubakar has commenced talks with the military government in Niger.
This is happening ahead of the seven days ultimatum issued by the regional body to the coup plotters for reinstatement of President Mohamed Bazoum, which expires tomorrow.
The delegation has a mandate to expeditiously resolve the current political impasse in the West African country.
According to a statement by Presidential spokesman, Ajuri Ngelale the action was in line with the resolution reached at the end of the extraordinary summit of the ECOWAS held last weekend in Abuja.
The former Nigerian military leader is joined in the delegation by the Sultan of Sokoto, Alhaji Muhammad Sa'ad Abubakar III, and the president of the ECOWAS Commission, H.E. Omar Alieu Touray.
"We don't want to hold briefs for anybody. Our concern is democracy and the peace of the region," President Bola Tinubu said at a meeting with the delegation in Abuja before their departure to Niamey
Speaking after the meeting, General Abdulsalami Abubakar (rtd) said the delegation would meet the coup leaders in Niger to present the demands of the ECOWAS leadership.
Another mission led by Ambassador Babagana Kingibe , a former Secretary to the government of the Federation has been dispatched to Tunisia and Algeria to mediate on the Niger issue
Both leaders of the two missions expressed optimism on the outcome of the assignments.
Outcomes of the talks from both missions are still being awaited even as Guinea recently expressed solidarity with the Nigerien coup leaders describing recently imposed sanctions as illegitimate and warning that any military action against the military regime could result in humanitarian crises beyond Niger's borders
-Advertisement-