Law and Crime
Customs Seizes N813m Codeine , Cannabis, Others, Arrests 12 Suspects
...Recovers N81m as Revenue for Government in August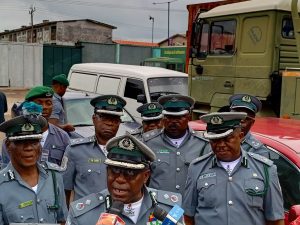 In continuation of it's onslaught against smugglers, the Federal Operations Unit , Zone A of Nigeria Customs Service have seized 394 cartons of prohibited codeine syrup, 345kg of cannabis and arrested 12 suspects in connection with smuggling in August 2023.
Acting Controller of the unit, Hussein Ejibunu who disclosed this in Lagos during the monthly press briefing on his activities said 91 seizures valued at  N813,058,345 in August 2023 across different states in the South West and recovered N81,449,373 as revenue for government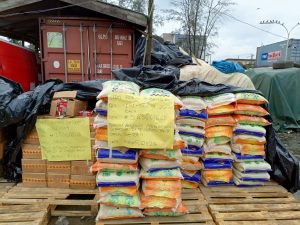 Ejibunu , a Deputy Comptroller of Customs, added that the unit has intensified action in suppressing smuggling and preventing revenue loss within the Southwest Region.
Other notable seizures made in August 2023, according to him include 6,911 x 50kg bags of Foreign Parboiled Rice over 11 truck-loads;486 cartons of frozen poultry products;368 pieces of used tyres ;     13 used vehicles ;32 cartons of expired batteries and   1 X 40 ft container FTC one used Toyota Corolla, 49 pieces of car rims,552 pieces of car used tyres, 205 pieces of used truck tyres and 32 pieces of motorcycle tyres.
Other seizures include 292 bales of Used Clothes and 13,525 litres of Premium Motor Spirit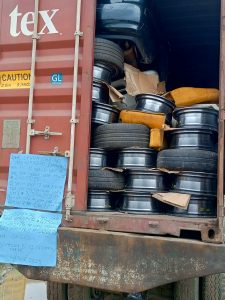 In demonstrating the commitment of the Service towards safeguarding the nation's economy from recalcitrant saboteurs; officers and men of the Unit have remained resolute in enforcing the Customs extant laws. While enforcing these laws, dubious importers and traders were either made to pay the maximum duty payable, through the issuance of demand notices or made to forfeit their goods to the Federal Government by way of seizing them.
The Acting Controller said "You may recall that foreign tomato paste, used clothing, foreign parboiled rice, importation of vehicles through the land borders, used tyres, arms and ammunition without end-user certificates among others, are items that fall under the import prohibition list; their importation threatens our fragile economy.
"The attention of the public is hereby drawn to the dangers posed by the importation of Indian Hemp (Cannabis Sativa) because of its effect on criminally minded people and our youths. Similarly, the importation of foreign parboiled rice and poultry products is an adversary to the economy of the local farmers. Smuggling of prohibited items such as used shoes, illicit drugs, used clothes and used tyres are giving serious health concerns.
"On our part, we shall continue to partner with well-meaning citizens by soliciting for timely and useful information to curb smuggling. While we advise members of the public to be guided by the Import and Export Prohibition Lists for compliance.
"These seizures recorded within the month of August 2023, have a cumulative duty paid value (DPV) of N813,058,345
"It is sad to note that some Nigerians would pay all duties and levies payable to the Customs authorities of other countries they import from, while they make conscious efforts to evade such payments into the federal government coffers. On revenue recovery, the sum of N81,449,373.38 was made through documentary checks and issuance of demand notices on consignments that were found to have been short-paid.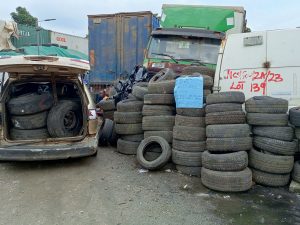 "I am using this medium to thank all patriotic Nigerians that provided useful information that led to some arrests, and also the compliant traders and importers for complying with the extant laws. While the recalcitrant ones are advised to stop because it is a crime" he said
-Advertisement-