Interviews
Blue Economy: NSML 'll Sustains Lead as Biggest Employer of Nigerian Seafarers- MD Ahmed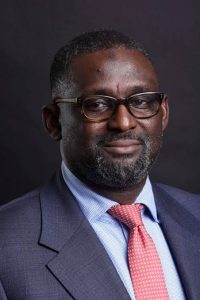 Abdul Kadir Ahmed, Managing Director of NLNG Shipping and Marine Services Limited(NMSL) spoke to journalists in Lagos shortly after participating in NSML/Utomapp Roundable
He talked about his compay's drive to sustain its leading position as number one employer of Nigerian seafarers through its deliberate Nigerianisation agenda; successes recorded in maritime security through thee NIMASA deep blue project and the imperative of environmentally friendly shipping 
Ismail Aniemu was there
Q:In terms of localisation, what is the number of Nigerian seafarers you have working onboard your vessels as well as your provision of sea time for cadets of maritime institutions in the country?
The number of seafarers we have is related to the number of vessels we have under management. There is a maximum number of seafarers per vessel and therefore we always ensure that we have the seafarers and book subject to a certain buffer relating to employability, which is the number of vessels we have under our management.
We have approximately 650 seafarers, but we are continuing to diversify and grow the business. We started as purely managing and  providing seafarers to the Liquefied Natural Gas (LNG) LNG fleet. But over the years, we have expanded that into managing Liquefied Petroleum Gas (LPG) vessels as well.
We are currently supervising the construction of a new LPG vessel for a third party, a Nigerian entity in South Korea and the expectation and hope is that the vessel will also come under our management and that will also provide opportunities to engage and employ seafarers that will run those vessels.
We are engaging with various entities including Nigerian National Petroleum Company Limited (NNPCL) with regards to the acquisition of vessels. The more we expand that side of our business in terms of vessels under our management, the more opportunities there would be for Nigerian seafarers to manage those vessels.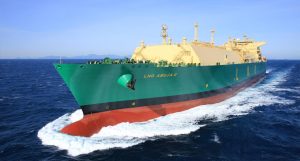 We equally as corporate citizens have a Nigerianisation objective which we have met, which is ensuring that at everytime we have a full compliment of Nigerians to manage and run our vessels. Because we are international , there will be a need for a bit of cross-fertilisation of ideas and therefore we will always have foreign seafarers, but at everytime within our books, we will always have 85 per cent of our seafarers being Nigerian.
We met that in 2022 and we are continuing to do that and I am sure you have also heard that in March last year, the LPG vessel under our management achieved 100 per cent Nigerianisation on our coastal waters. That is something we are targeting and we will continue to review that.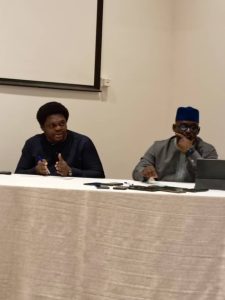 At every point in time we maintain a minimum of about between 50 and 60 cadets onboard our vessels. Typically we have partnerships to support the cadets to get their CoC and ensure they are ready for the market. We also provide a pool of cadets and seafarers for our own use. But of course, we can't absolve everybody, it all depends on the number of vessels. For us, it is giving them the required training so they can build a career in the global shipping and maritime industry.
Shipping and maritime is a global industry, those certification and skill sets are exactly the same applicable everywhere in the world. Our youths with their large population. India and Philippines export seafarers, Nigeria can do same. ao giving them the skill set tool that they can work anywhere in the world is really the intent and I know within some of the cadets that have passed through us, quite a few are working internationally at the moment and that is the objective, to create that avenue for youths to have the right skills that are applicable anywhere in the world.
Q:When will the construction of the LPG vessel for Korea be completed and brought to service to have Nigerians onboard?
The new LPG vessel is not our vessel. We are effecting the design and supervising the construction. The announcement of when depends on the owners, but it is progressing very well and we believe very soon it will be brought into service.
That is something we will like to highlight because its a unique skill, the design and construction supervisor of a complex vessel like an LPG or LNG is a competence we are very proud of and it really touches on the purpose of the creation of NSML as an entity, which is domesticating those skills.
Prior to us, if you are going to do that, you go outside and get external foreign companies to do that for you, but now we can do this. We did it with 100 per cent Nigerian staff.
Q:Nigeria still struggles with the acceptance of its Certificate of Competence (CoC) for seafarers internationally, why is this so?
Unfortunately, it's an ongoing activity with the acceptance of the CoC and I know the Nigerian Maritime Administration and Safety Agency (NIMASA) is doing a lot with regards to ensuring the CoCs are accepted internationally.
The key element boils down to the comfort that we are able to provide to other regulatory bodies internationally about the standards and a lot of money have been invested in Maritime Academy of Nigeria (MAN), Oron. They have done a lot in upgrading the academy, which is a step in the right direction and I know the NIMASA Director General is also very passionate about pushing that.
For us in NSML, we have always been available and we will continue to support NIMASA with regards to pushing that, because it also works in our favour. If the Nigerian CoCs are accepted internationally, it makes life easier for our seafarers to want to renew their CoCs. It also creates a large pool of resources. But there are no short cut to it and that is one thing I will always make very clear.
Acceptance of CoCs looks bilateral, but there are some fundamentals towards the bilateral element, which is that the other party must be comfortable that the quality of the CoCs are at the level that is sustainable. They want to be sure that the processes of assuring quality is standardised and assured by everybody and that work is currently ongoing and I am absolutely confident that in a very short while, that would be achieved.
We will continue to support that because it's in line with our vision and I will also tend to emphasise that supporting the growth and development of the Nigerian maritime industry starts from the fundamentals of building capacity and ensuring competence in the capacity.
Q:Does NSML training partnership with the Maritime Academy of Nigeria, Oron still exist?
The relationship between NSML and MAN Oron is an ongoing relationship. The purpose of the creation of NMSL was to domesticate shipping and maritime skill sets locally and for you to do that, it means you have to develop competence and capacity within Nigeria. That was the essence of our relationship with MAN Oron.
We supported them in the past in terms of curriculum, we have done an assessment and overview of what they need to do, we have done gap analysis, we have supported them on that in terms of where they were and where they needed to be. We will continue to support them.
A lot has been done in MAN Oron in terms of upgrading the facility because that is one critical area. Technology is changing, the competence required is equally evolving.
With knowledge and competence you cannot be static because everything around you is evolving. That is the challenge of seafarers training and development, not just in Nigeria, but globally.
 MAN wasn't just simply around the curriculum, which we supported them and they have also developed, but was also about the facility. From our perspective from what we see, there have been a lot of investment in upgrading the facility as well as upgrading and making the curriculum relevant. NMSL as part of stakeholders in the industry are happy to continue to support in that respect. If MAN is able to achieve on its objective, it benefits us as stakeholders because the people make the maritime industry what it is.
Q:How many vessels are currently under the management of NSML and what are your catchment area in the global market?
We have have 12 vessels under our management. 11 LNG vessels and one LPG vessel currently.
Expectations in line with our growth and diversification objective is to grow the number. We started out as an LNG vessels manager, we have now expanded into bringing LPG, we are hopeful that we will expand both the LPG fleet as well and move into oil tankers and products so that we cover the whole gamut of energy vessels under our management.
We are growing that side of the business slowly, it is a deliberate growth so we don't just over expand beyond capacity, so it is sustainable to build and diversification of duties about sustainability.
Our vessels go all over the world. We have vessels who are loading cargoes in North America, delivering it to Europe, we have vessels loading cargoes in Nigeria and delivering it to Europe, South Africa and far East – Japan, China, South Korea, Indian subcontinent, our vessels go everywhere. The one area our vessels don't go is Russia.
The only way you can have a vessel that is able to trade in all of these areas boils down into the comfort that those areas would have vis-a-vis your operations and that is where competence and flag assurance come into be, because you need to have a flag and capacity of the crew that is assured and people can vouch for.
That is why it is essential that we create and align ourselves to the global standards. We can have a Nigerian standard, but we should make sure it is not below the global standard. The Nigerian should, in actually fact, there is no reason why we can't lead by pushing for a higher level of standard, not below.
Q: Your vessels are not registered with the Nigerian flag, why is this so?
The ship registry issues, the last time we spoke, NLNG vessels are registered under a different flag for a number of factors. One, of course the registry, we have the international ocean going and there has to be that level of comfort and assurance of the registry and acceptance of the registry internationally for a Nigerian flagged vessel to operate and trade openly.
It is a work that is ongoing as well and we are participating in as NSML and NLNG level, engaging with NIMASA. We are part of that committee that has been set up to review what needs to be done so that the Nigerian flag and registry get to that level of international acceptance and for us it is a win-win situation once that is achieved. It is an ongoing discussion. We are really aligned with the desire and objectives of NIMASA to have that and we will continue to support that because we believe if we can achieve that, it would definitely support the development of the Nigerian maritime sector.
Q:What is your take on the creation of the Marine and Blue Economy Ministry to address issues in the maritime sector?
One consistent message has been the importance of Marine and Blue economy to national development and the need for a focused ministry to handle that. For us, waking up one morning to hear that has been created, it was an excellent news and fully supported.
It is in line with the aspiration of every maritime industry professional, because now you have a ministry that is fully focused on realising the potentials of the blue economy.
The Blue economy goes beyond just shipping and marine, it is a whole gamut of activities that relates to our ocean resources. Of course, shipping and marine sound like the obvious, the next one is fishing, which we know, but there are so much that can come out of the blue economy.
The essence of the blue economy is how do you sustainably develop and explore those resources to create value and economic development within an economy?
In Nigeria, with our population, all hands need to be on deck to ensure that we create avenues for a sustainable economic development and the blue economy is one veritable source for that. Not just simply from revenue point of view, but most importantly from employment point of view.
Our teeming youths need to be given the avenue to be gainfully employed and the blue economy is one area, that if fully exploited, will achieve that at a very fast rate.
NSML have focused on training and development of seafarers, it's an avenue. You can imagine if you can replicate a thousand NSML's what that will mean? and that is possible. Not just simply shipping and logistics from the point of view of oil and gas, it could be also from fishing, offshore power, offshore cabling, renewable energy – there is so much that can come out of the blue economy.
 Another area is the support network, the full ecosystem of repairs, equipment, and all those gamut of activities, the multiplier effect is tremendous. For us at NSML, the creation of the ministry of marine and blue economy is an absolute step in the right direction. I have always said the key element is to create that enabling environment that will ensure the triple goal of safety, reliability and creating sustainable efficiency.
That enabling environment of creating a competitive industry is something that the creation of the ministry of Marine and Blue Economy will address and it is something we are absolutely looking forward to its full realisation. I am sure there will be that focus now to really drive the change that will enable that to happen.
Q:Stakeholders are calling for clarity of roles and definition of jurisdiction so there won't be clash of interest and then jeopardise the success of the blue economy ministry. What are your expectations?
We now have a ministry purely focused on blues economy. Yes, there will be various agencies and historically, there may have been slight conflict and disagreement in terms of who is responsible for what role. Having the ministry now allows that clarity to be visible. We will now know who is responsible for what, who are the regulators and operators and what are their roles because there has to be that demarcation.
It is easy to say one entity can do everything, but can't do everything effectively. The essence of bringing everybody under one roof is to provide that clarity and the creation of the blue economy ministry will significantly aids towards that.
The blue economy is going to be driven by the private sector, the attainment of the goals and objectives of the blue economy and every benefits we see coming out of that is going to be driven by the private sector. If that is the case, the question should be, what is the role of the government?
In this instance, the role of government is around regulations and creating the enabling environment for private sector to thrive. Within the context of the blue economy, the regulation has to focus on ensuring we create a safe industry. So safety is absolutely critical in shipping and marine. Every single one of us as operators in the industry have that responsibility of ensuring safety, but government and the regulatory agencies have that primary responsibility of ensuring and creating the necessary regulations to drive safety.
Second element is efficiency and competitiveness. We want to create a competitive industry because it is only by this we will ensure that people coming and the best are able to thrive and grow that sector. The expectations is strengthening regulations, oversight and creating the enabling environment for private sector to take the lead in the development of that sector.
What you now have is ministry that can be fully focused on having that, creating the enabling environment so that private sector and capital can come into that industry and push the development and the overall expectation of the blue economy.
Q:There is the effect of climate change and the reduction of greenhouse gas emissions as well as other shipping decarbonisation objectives by the International Maritime Organisation (IMO). Give us an insight into what NSML is doing in that direction in Nigeria?
On the greenhouse gas emission and decarbonisation objective, which is in line with energy transition and climate change, we all have a duty and responsibility to live and utilise the resources in a sustainable manner so we can pass it unto the next generation.
That requires us not to overly pollute and to ensure effective utilisation of the resources. This is where the argument with the discussion around greenhouse gas emission, the impact and decarbonisation comes in .
The fact that as a people today, we have advanced so much technologically, we need to ensure such advancement does not come at a detriment to the current environment and the future sustainability of life in the world. That is really that essence of it.
Part of it is looking at how we consume, what we emit into the environment and shipping is one critical area in terms of that, because shipping has become very central to the world economy. It is really that link that binds global trade.
We know that historically, shipping is one of the major emitters of greenhouse gas. There has been an increased focus in terms of cleaning up shipping operations to make it more efficient, to ensure we decarbonise our processes and contribute towards the movement to net zero and that is being driven primarily by the International Maritime Organisation (IMO) which has the regulation that requires a progressive reduction of greenhouse gas emission right down to 2050 where the expectation is net zero. The target is 40 per cent by 2030.
We at NMSL and NLNG subscribe fully to that and we have our own decarbonisation objective as a group as well, to drive the change in terms of our operations so that we achieve that. In NSML we are looking at it from three fold. The first element is that recognition and realisation of the impact of carbon emission into our environment. That recognition is the realisation of our contribution to it. That is very critical and you can't change what you cannot measure.
From our point of view, it is simply starting from having a baseline assessment of what exactly are we emitting case by case and that is what we have imbibed. We are two years into it. We have aligned ourselves and developed the mechanism for measurement. So for every of our ocean going vessel, in every aspect of our operations, we know exactly how much we are emitting into the environment from our operations. That is the starting point.
The second aspect of it is that once you measure and know, what next? That is very crucial. So is it just for knowing sake or knowing from the point of view of recognising what you are emitting and what you needed to do to control and reduce it?
It starts from essentially the change in terms of the way we operate, which has been ongoing. Whether is the change in terms of the kind of fuels we use on our vessels, the way we plan our voyages or the way we ramp up our boilers? So that holistic change in the way you operate, because the way you operate contributes to whether it is high or low. So you can manage it from that holistic change in the way you operate your facilities and vessels. That is something we have started doing.
Another aspect is simply looking forward, just simply using the same equipment, the same vessels, yes it will enable you to reduce, but it won't push you to net zero. There is that focus on technology, retrofitting, new equipment and vessels and it is something that we are looking out from the good perspective when we were looking at our fleet renewal activities to see whether we have the best technologies out there  as we continue to renew our fleet.
We are not just simply renewing our fleet using the same kind of technology, but we are taking advantage of emerging technologies to either retrofit or acquire new tonnages that are much more efficient so that our operations basically, fully contribute towards the net zero objective both of IMO, Nigeria and NLNG.
There is a lot of activities going on there and discussions are really centred alot around decarbonisation.
Decarbonisation and the regulation is an opportunity, it boils down to competitiveness and relevance. All of us are in this business as pursuit of relevance. You have to be relevant to yourself and every stakeholder and the environment applies to everyone of us. So we do have a responsibility to our environment.
The Nigerian Maritime industry is lagging behind the rest of the world in terms of standards, decarbonisation, development and acceptance of Nigerian CoC internationally and that is what we have been working on with NIMASA and others to get it right.
In the last six years everything has changed in terms of decarbonisation and if you look at the evolution of different things from even the monitoring leading to the reduction, the new technologies, everything has changed over the last six years.
For some reasons, it is not caught up to Nigeria at all and it is particularly worrisome because if we don't act – net zero is a worldwide strategy, our entire skills and understanding of things in the industry will be obsolete within the next five to 10 years.
 It is something that has really got to us. Because we are international phasing, we are happy to do most of those things. All of them still fits back to us and it is changing so rapidly. Everytime they come up with new updates and tighter regulations, which have an impact on technology, finance, funding and capacity and everything.
The regulation is changing so fast and it is a bit of a worry to us. We need to distill those regulations down to the local industry. The standards of operations of shipping and maritime are global. There is nothing about creating the Nigerian standard. It is important that if we are not going to take the lead, we should not be left behind.
We need to sensitise the community to ensure Nigeria achieves net zero. We don't have to sit and wake up one day to see the world has gone too far for us to catch up in a global industry. Again, there is a lot of interest. It may not have permeated down fully, there is a recognition and awareness of it. There is a lot of confusion with the lack of clarity in terms of where the world is going, because then, we can come back and be able to say what do we need to do to, if not catch up, but stay in touch.
Q:Give us an overview of the improvement of security on our waterways given the fact that your vessels operation are in the eastern part of the country, where insecurity is perceived the most?
The deep blue project of NIMASA has been excellent. The removal of Nigeria from the high risk area of piracy is the evidence of its success. Does that mean we are never going to have an incident? There is nowhere in the world where you can't have an incident. It is simply around having the resources and framework to ensure you limit the number and you are able to respond effectively and efficiently and that is what the deep blue initiative is all about.
We have seen the impact of that. It is highly commendable, but the challenge going forward is the sustainability. The creation of the marine and blue economy ministry's focused on security will transcend into sustainability. Because what we now have is a ministry that is purely focused on that sector and security is a critical aspect if we really are going to make a success and achieve what we want as regards to the blue economy.
We have seen the impact and significant reduction in piracy incidences in the Gulf of Guinea and we have seen also the impact in the removal of Nigeria and Gulf of Guinea as high risk area due to that and that has transcended into greater efficiency in terms of our operations and we are hopeful the initiative will be sustained going forward so we will continue to reap the benefits from it.
Q:The clean waterways initiative, the issue of plastic pollution, where is the challenge more prominent and has NSML collaborated with any agency to create this awareness on the dangers to shipping?
The Clean waterways initiative is something that we at NSML take very seriously. The problem is most prevalent everywhere and that is the major issue. We are sinking under plastic and the problem is that we are oblivious to the danger of what we are talking and that in essence, is the purpose of the clean water way initiative, to bring it to the table and highlight the problem.
Let us all know that the plastic bags and bottles disposal is wrong. Plastic basically never breaks down, it remains in the environment for millions of years. We are seeing the impact both in terms of marine lives and transportation. It is a global problem, but everybody mind their own backyard. Others are focusing on their own backyard, we need to start focusing on our own.
The whole essence of the clean waterways is to start that discussion, we need to create the awareness across all stakeholders of the menace and impact of plastic and indiscriminate dumping of plastics, not just in our waterways, but because we are a shipping and marine service company, we focus on waterways, but there are other areas as well.
 We need to create the awareness on the tremendous amount of dangers with plastic. We recognise that we need to come together to push for the advocacy to ensure the right rules and regulations of the production, utilisation and disposal of plastics.
The third element is action. Beyond awareness and advocacy must come action and it is not about one entity or the other, there should be action. This is one area we all have individual and collective responsibility to do our little bit from our house.
All the impacts of plastic from the operations of marine. If you speak to a lot of people operating in our waterways, the tug boats, the little marine crafts – We have had the naval marine craft parked up in the middle of the waterways because of plastic.
You can imagine the operational impact that plastic is causing. The engines are not lasting long enough now because of this. That is just operational, talk more of environmental and health.
It is really important coming together to create the awareness. We all have a duty to do that because unfortunately, we seem to be oblivious to it. The plastic waste has created and  is still creating a menace in our environment and that is something we all need to start addressing fast.
Individual efforts out together creates a momentum towards change and that is really the essence.
-Advertisement-