Uncategorized
Apapa Customs Uncover 2 Smuggled Pistols in Container, Arrests Suspect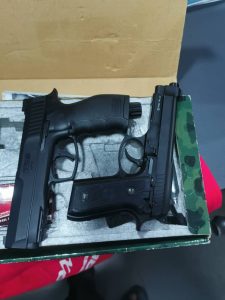 Two pistols hidden in a groupage container have been uncovered by customs operatives during examination at the Apapa Port of Lagos
Customs spokesman for Apapa Port, Abubakar Usman who disclosed this in a press release issued in Lagos, said a suspect has been arrested in connection with the arms smuggling.
The seizure is part of N1.4b worth of smuggled items stopped from entering the country from the port under the watch of Comptroller Auwal Baba Mohammed, the Customs Area Controller.
Comptroller Mohammed has launched investigation into the arm smuggling while restating to importers, exporters and their agents that all consignments passing through the port must undergo diligent examination before exiting customs control.
Other seizures made within the period comprised of prohibited drugs, used tyres, rice, vegetable oil, and  sundry items.
According to Comptroller Mohammed, non compliant traders spend more time and money paying for terminal space due to demurrage plus higher cost due to DN"s and penalties.
At a recent monthly meeting of Terminal/Unit Heads, Comptroller Mohammed exhorted all officers of the command to sustain and improve upon the level of discipline the command has been noted for under his watch.
He characterised discipline as the foundation of good work etiquette, such as punctuality, diligent application of Nigeria Customs Service Act (NCSA) 2023 and other noble virtues that align with the law.
He further stressed that Nigeria has high expectations of the NCS and that the service is looking up to Apapa Command for its highest collection.
Comptroller Mohammed charged officers/men of the Command to use their knowledge of the job and the rules guiding the service  to facilitate legitimate trade.
He said, " As we facilitate trade for compliant traders, let's be wary of the possibility  of releasing uncustom goods in error or in the guise of facilitating trade
"I hereby charge you to do better in the second half of 2023 as the glory for the successes recorded in the first half belongs to all of us" Mohammed said.
-Advertisement-